Alabama Ministers
United Pentecostal Church International
Christian greetings!
The challenges of the past two years have been many, but God has given His church power and direction. He has promised to make our feet like hinds' feet on high places. He is making us to be sure-footed in treacherous times. I definitely feel the work of God's hand in the church during this season.
The Leadership Team of the UPCI of Alabama met for our planning session on Monday and Tuesday, October 18-19, 2021. This was one of the best meetings ever, with each team bringing visionary plans and ideas to the District Board. We are thrilled to offer some wonderful opportunities for the coming year. I have attached a Quick Reference Calendar to this letter, and you can subscribe to the District Calendar with the link provided. The Calendar on the Alabama UPCI Website remains current. (AlabamaUPC.org) The information is constantly being updated, and registration links are included when provided.
It seems that each year the calendar gets busier, but please keep in mind that there are many events that target a specific audience, therefore making it possible that multiple events can occur simultaneously. We want these events to assist the cause of revival in the local church, but never overshadow the work of the local church. We remain committed to building and improving our presence in the communities throughout Alabama.
We have merged the Alabama Strategic Growth Initiative with the North American Missions team. While SGI focusing on training and strengthening existing churches, and NAM focuses on church plants and new works, the objectives are linked, and we feel they will thrive as they work together. You will be hearing more soon about our "Next Town" effort, something we are very excited to introduce.
The Licensing Event and Seminar for 2022 is slated for February 25-26, 2022 in Alabaster, Alabama. Anyone planning on gaining license or license upgrade must meet the District Board at this time. This is the only licensing event of the year. Obtain Application Packets from your presbyter, and please use the Alabama License Packet, because it contains all the applications, forms, and instructions that you will need to meet the District Board. Applications are due Wednesday, January 5, 2022. Please have them in your presbyter's hand by that date.
Take time to read over the Quick Reference Calendar and help us plan ministries that will press us forward into the last day revival. Please let me know if I can help you in any way. We are here to serve the great people of Alabama.
In Christ,
J. Stanley Davidson
Alabama District Superintendent
Click Here to download the Quick Reference Calendar in Printable PDF format. Updates are constantly being made and are reflected in the District Calendar at AlabamaUPC.org.  Or, you may use the following address to access the District Calendar from other applications.  You can copy and paste this into any calendar product that supports the iCal format.
https://calendar.google.com/calendar/ical/6071c6g94p71f1ku8nvjfdhdb0%40group.calendar.google.com/public/basic.ics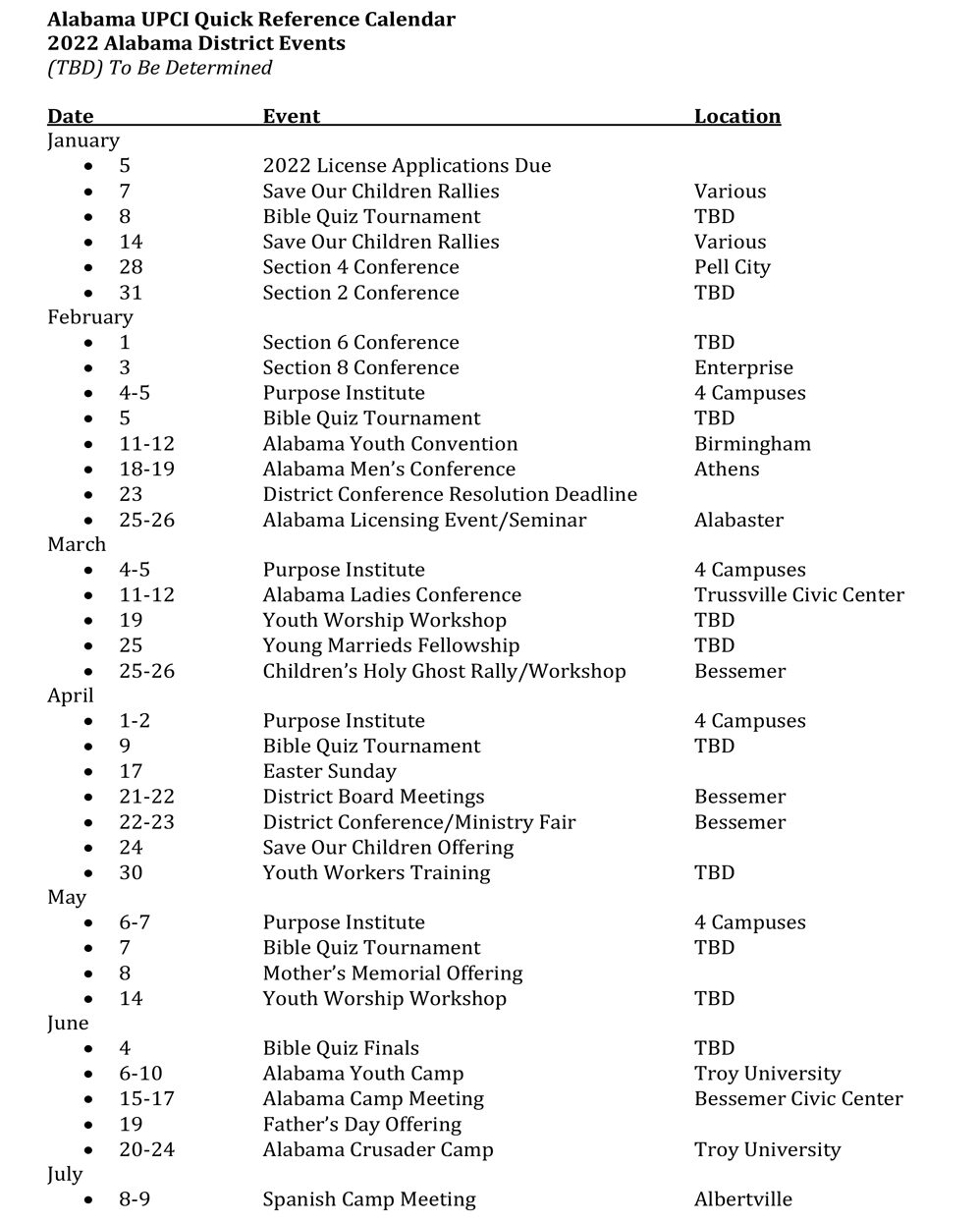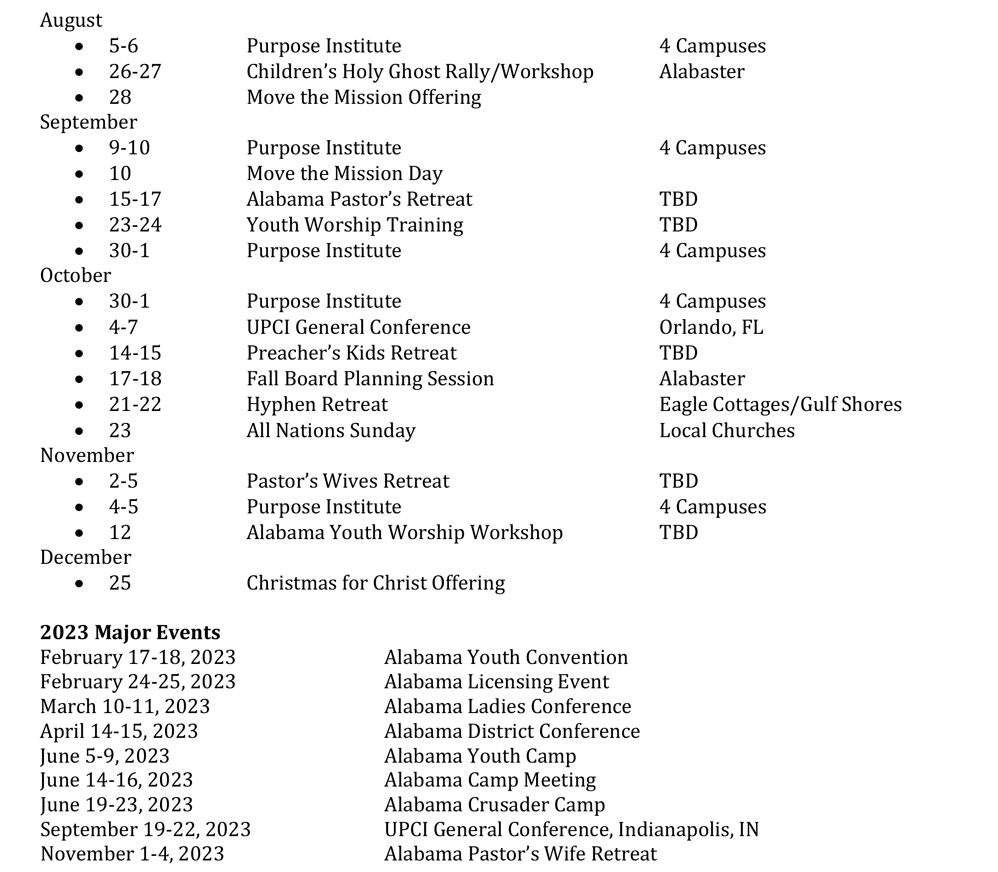 Updates are constantly being made and are reflected in the District Calendar at AlabamaUPC.org.  Or, you may use the following address to access the District Calendar from other applications.  You can copy and paste this into any calendar product that supports the iCal format.
https://calendar.google.com/calendar/ical/6071c6g94p71f1ku8nvjfdhdb0%40group.calendar.google.com/public/basic.ics